About Us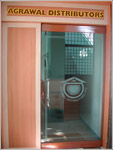 The art of distributing products has undergone a tremendous metamorphosis, the passage of years has seen the same art bringing with it quality plastic household products. Keeping pace with it is Agrawal Distributors, a name to reckon within the distribution of said products. It all began in the year 1972 in a small but compact one-room structure in one of the oldest areas of Hyderabad called Feelkhana. The room acted as an office cum godown.
Mr. Ravi Agrawal, click here to see large picture.The Managing Director of the firm Mr. Ravi Agrawal, a B. Com graduate, plunged into distribution of plastic household products very soon after completion of his studies. With a near-perfect feel and inborn instinct for business, he has scripted a wonderful success story. Starting from virtually a zero-level base, he has traversed and seen through the passage of years in the area of product distribution to a solid, strong, and reliable structure as on date.
From a one-room structure measuring just 350 sq.ft. to a modern, sophisticated and vibrant structure occupying 2,000 sq.ft. centrally air-conditioned office area and 27,000 sq.ft. godown area, it has been one long worthwhile journey. Today we stand tall as one of the foremost and leading distributors of plastic household products in the state of Andhra Pradesh. As of now, we are distributors for:
NAYASA (thermoware & houseware)
Pigeon (Home Appliances
Gala Brushes (Cleaning Utensiles)
Rajpal Plastic Industries (Palmex Brushes & Cloth Clips)
MILAN PLAST (P) Ltd (Storage Drums & Containers)
SUNPET (Kitchen Jars & Packaging Containers)
PLASTONA ( Pakcaging Containers & Gen Household Products)
OXYWRAP (PVC CLING FILM)
We have grown and come along a lot since 1972, the same attributed to customers trust in our company. We still believe in doing "whatever it takes" to keep you happy and satisfied with our products and services. And in all these years, that's one thing that hasn't changed!